Our spacious truck driver parking-friendly offices are conveniently located in 8 locations across the Inland Empire, CA. Get a quick "in and out" service in a sanitized, safe, and professional environment.
Locations: San Bernardino, Ontario, Victorville, Carona, Fontana, Riverside, Moreno Valley, Pomona
DOT Physical Exam
A DOT physical examination is a compulsory physical test to determine the physical, mental, and emotional strength of Commercial Motor Vehicle (CMV) drivers. Mandated by the Federal Motor Carrier Safety Administration (FMCSA), the Department of Transportation (DOT) physical is a required certification from truck and bus drivers across the county. That's why having 7 locations across California can make things convenient for all our clients.
We provide quick, friendly, and sanitary services at low prices. To us, there's nothing more important than making sure that our clients are satisfied with the service and their expectations are met.
WHY CHOOSE US?
Open 5 days a week from 10 am to 7 pm
Quick "In & Out" service
Truck driver parking friendly
Large, comfortable, and sanitized offices
7 convenient locations in the Inland Empire, California
Experienced and friendly DOT Certified medical examiners
WHAT TO EXPECT
The test requires that one of our certified medical examiners check your vital signs, review your medical history, and proceed with the regular physical examination. Some of the required fields for analysis include:

General appearance
Eyes
Ears
Mouth and throat
Heart
Lungs and chest
Extremities
Nervous system
Hernias
Back and spine
On meeting the DOT physical requirements, you will be issued a DOT medical card and a medical examiner's certificate (MEC).
Our Other Services Include
Show us this offer on your phone for your $70 physical!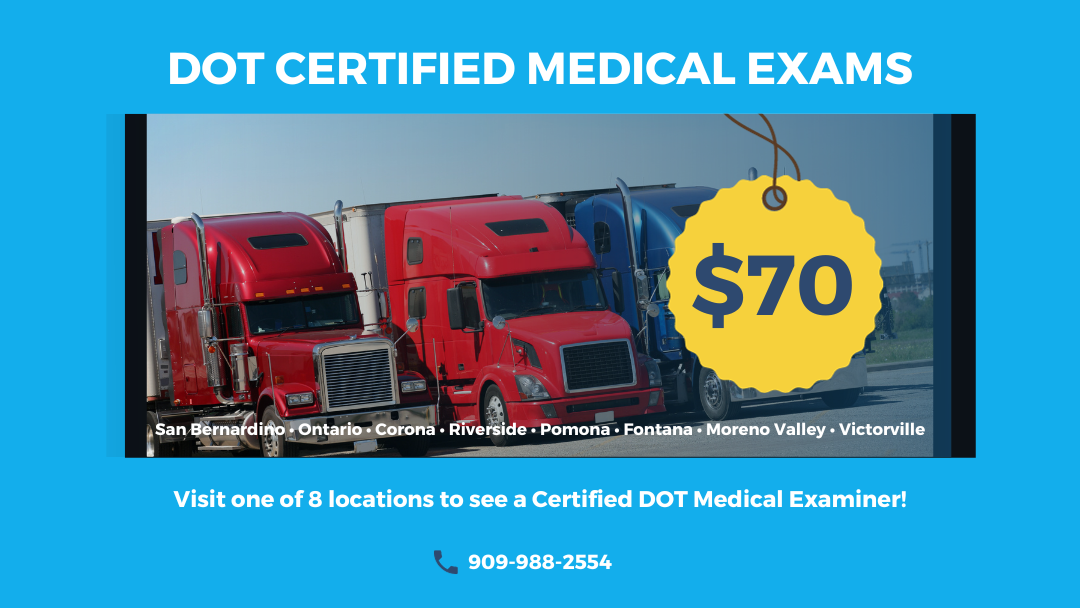 Contact Us for an Appointment
Need to talk to a chiropractor? If you're experiencing pain and discomfort, don't wait. Contact us by filling in the form below or call us at 909-988-2554